There will no junior high boy's game tomorrow, 1-18-21. 5th/6th boys and girls and 7th/8th girls are scheduled as normal. You will need a ticket to get into the game. Go Cards!

Texhoma Tournament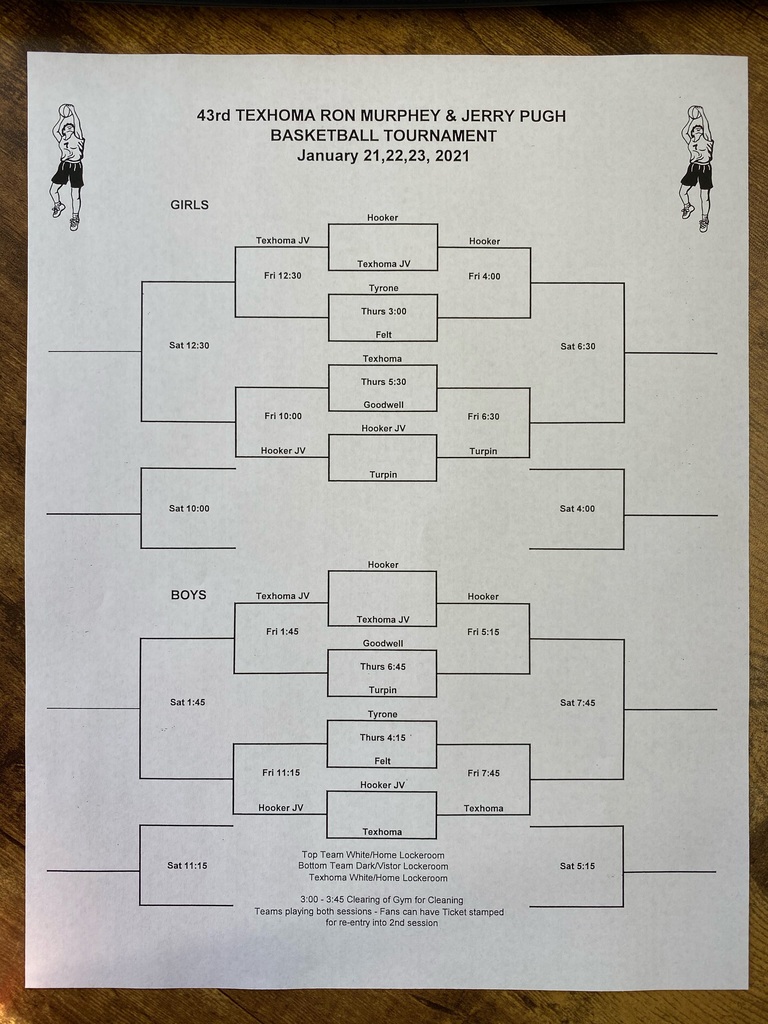 Your child should have brought home their report card yesterday for the first semester. No JV games tomorrow vs. Forgan. No boys' games Saturday at Texhoma. ALL basketball games at TYRONE next week will require a ticket to get in. The recorded band and choir concerts are now online. Go to
www.turpinps.org
, menu, and bank/vocal. Enjoy! Thank you!
Watch Live Stream Action Here:
https://bit.ly/35wdYSL
Please subscribe to the channel to help us live stream events outside of our school!!!

Because of the on going weather conditions and poor road conditions we are canceling school for Wednesday. We will continue with distance learning.

The Laverne Basketball Tournament has been moved to Thursday, Friday, and Saturday. Updated bracket will be posted when it becomes available.

Laverne Invitational Basketball Tournament This school year has presented challenges like no other in history, but Laverne Schools and our staff are committed to providing this tournament to all the schools involved in as safe and comfortable a manner that we can provide. In order to provide additional mitigation measures intended to further slow the spread of COVID-19 and relieve the pressure on crowded hospitals across the state, as mandated through Gov. Stitt's executive order, we will be following these measures: 1. Attendance at youth indoor sporting events will be limited to four spectators per participant or 50% of the building's capacity, whichever is lower. Participants include all of your school's coaches, players, cheerleaders, administration and members associated with the playing of the game. We are asking all schools to please cooperate with this. *We will be broadcasting every game live at:
www.youtube.com/channel/UCd1esHYgv2tWUcEF8FwMOGA/live
2. Wear masks if appropriate, social distance, clean your hands frequently, and follow safe practices to help us host a great event. 4. We are asking that fans try to help us with our numbers by not hanging around if their team is done playing. Please help us ensure that your kids are able to have a safe and memorable experience while participating in our tournament. We hope that everyone plays to the best of their abilities, that the best teams win and most importantly that everyone stays safe and is able to continue on through 2020 and its challenges. Thanks Brett Trippet

Due to weather, Turpin Public Schools will have distance learning tomorrow, December 3rd. Stay safe and warm.

Due to predicted weather conditions, school will be canceled again tomorrow, October 28th. Distance learning will be in place. Students will need to continue to do their assignments and check in with their teachers for attendance. Thank you. Stay safe and warm.

School will be canceled for tomorrow, October 27th. Distance learning will be in place. Students will need to do assignments and attendance required by their teachers. Thank you.

Turpin Public School: Parents, if you do not have an appointment to attend P/T conferences this evening, please do not show up. This is the reduce the risk of contact due to COVID-19. You can contact your child's teacher if you have any questions or concerns. The football game that was scheduled for Thursday night has been moved to Friday, October 16th, due to circumstances beyond our control. Fall break is October 14th-16th. We will see the students back at school on Monday, October 19th! Enjoy Fall Break!

Currently, Turpin Public Schools has 8 positive cases of COVID-19 school-wide. The Beaver County Health Department will contact students in close contact with these students and/or staff. Junior High football @ Turpin @ 6pm tomorrow, October 12th. No 5th/6th vs Tyrone. There will be a make up game for 5th/6th and JH on October 19th at Boise City. For Win-Win week Turpin StuCo is raising money for Larry McVey, a Forgan teacher fighting cancer. Please consider purchasing a shirt to support him. All proceeds will go directly to Mr. McVey.
https://gogearonline.com/united-for-mcvey

The Turpin vs Balko/Forgan 5-8 football games will be played at FORGAN. 5th/6th start time is 5 pm.
Turpin School is communicating with parents of students who will be juniors during the 2020-21 school year. Our school district plans to administer the ACT® test in spring 2021 to eligible juniors as part of the state contract with the Oklahoma State Department of Education and ACT. Last year over 95% of Oklahoma schools selected to administer the ACT. Our district believes this is an excellent opportunity for all eligible juniors to take the ACT at no cost to them or their families. Should you have any questions/comments, please reply to Brett Rorabaugh at
brorabaugh@turpinps.org
.

Currently, Turpin Public Schools has seven positive cases of COVID-19 school-wide. One in elementary and six in the junior high and high school. The Beaver County Health Department will contact students in close contact with these students and/or staff. Reminder: 7th-12th students will return to campus for face-to-face instruction on Monday, September 28th.

7th-12th students will return to campus for face-to-face instruction on Monday, September 28th. Can't wait to have you back on campus!

Turpin Public School: Distance Learning for 7th-12th grade students will begin tomorrow, September 21st, and continue for the entire week. Students will need to check Google Classroom for each teacher's specific instructions. 7th-12th will be distance learning due to a shortage of substitutes. Elementary(K-6th) will still have face to face school on campus. If you have questions, please email Mrs. Lehnert at
alehnert@turpinps.org
or class-specific questions to your child's teacher. All other after-school activities will continue as usual.

Starting next Tuesday student meals will be free.  This change is being made because of policy changes at the USDA.  It is projected student free meals will be in place until the end of December.  Families with children not in school will be able to pick up meals at the cafeteria from 1:15 to 1:45.